Seamus Deane
Belacqua Returns
Echo's Bones

By Samuel Beckett (Faber & Faber 128pp £20)
Beckett: no cigar
'Echo's Bones', as the editor Mark Nixon tells us, was received by Samuel Beckett's editor at Chatto & Windus when he asked Beckett to add to his collection of short stories More Pricks Than Kicks (1934), all ten of which were short indeed, individually and cumulatively. 'Hooray too if you can manage that extra story,' the editor, Charles Prentice, told him. Prentice had already rejected Beckett's first novel,Dream of Fair to Middling Women, in 1932. He was a perceptive and courageous editor, but even his almost surreal politeness did not prevent him from responding to the receipt of 'Echo's Bones' with a horrified candour. 'It is a nightmare … It gives me the jim-jams … I am sorry, for I hate to be dense, but I hope I am not altogether insensitive. "Echo's Bones" certainly did land me with a wallop. Do you mind if we leave it out of the book?' Beckett did mind, but he could do little. He took some material from the rejected story and added it to 'Draff', the last story of More Pricks Than Kicks. Prentice welcomed 'the new little bit at the end'. Beckett recycled the title for his first collection of poems in 1935, but Belacqua Shuah, the protagonist of More Pricks Than Kicks, remained dead. One of the slight difficulties in expanding the volume had been the need to revive the grotesque hero and provide him with suitable ruminations on his recent death, the disadvantages of which he was doubtful about anyway, wondering 'if on the whole he had not been a great deal deader before than after his formal departure, so to speak, from among the quick'. That's Belacqua. Never an enthusiast.
Die ganze Review gibt es hier:
http://www.literaryreview.co.uk/deane_04_14.php
'Lost' Beckett novella to be published
Monday 31 March 2014 16.15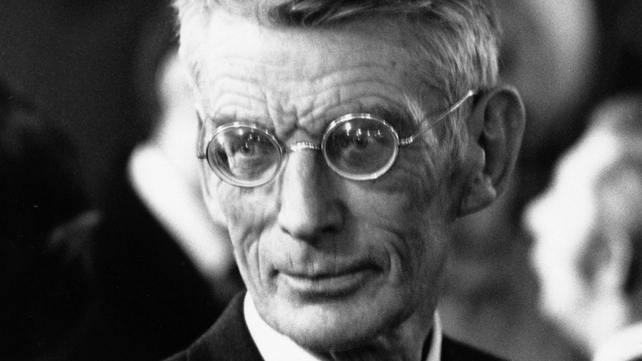 A previously unpublished work that was rejected as "a nightmare" by Samuel Beckett 's editor in 1933 will be published next month.
The novella 'Echo's Bones', meant to have been the 11th and concluding story in Beckett's early collection 'More Pricks than Kicks', will be published on its own by Faber & Faber on 17 April with an introduction by Beckett scholar Mark Nixon.
Mr Nixon, a reader of modern literature at the University of Reading, which houses the most extensive collection of Beckett's papers, said he understood why the 13,500-word story failed to make the cut, but he thinks it will be of interest to more than just Beckett scholars.
"It is well written. It's a sign of a very intelligent young man writing very much in the mold of modernistic experimental fiction of the time," Mr Nixon said.
Read more here:
2.4.14
A prose work by the Nobel laureate Samuel Beckett published for the very first time
Samuel Beckett, Echo's Bones, ed. Mark Nixon
Ich möchte bei dieser Gelegenheit erneut auf die hervorragend gemachte website von Rhys Tranter (Bristol) hinweisen:
http://www.apieceofmonologue.com/2014/04/samuel-beckett-echos-bones-mark-nixon-faber.html
Der folgende Text findet sich auf dem Blog von Rhys Tranter:
The dead die hard, they are trespassers on the beyond…
Eighty years after it was written, this enigmatic story by Samuel Beckett makes its first public appearance and is the first new Beckett text to be published in almost two decades.
'I'm delighted that Belacqua Lazarus will be walking again shortly. Let me shake him by the hand as soon as you can buy a ticket for him.'

Charles Prentice at Chatto & Windus to Samuel Beckett, 4 October 1933
'Dear Sam, It is a nightmare … 'Echo's Bones' would, I am sure, lose the book a great many readers.'

Charles Prentice to Samuel Beckett, 13 November 1933
'Echo's Bones' was intended by Samuel Beckett to form the 'recessional' or end-piece of his early collection of interrelated stories, More Pricks Than Kicks, published in 1934 by Chatto & Windus. The story was written at the request of the publisher, but was held back from inclusion in the published volume and so has remained unpublished to this day.
Introduced and fully annotated by editor Mark Nixon, this edition will situate the work in terms of its biographical context, its intertextual references, and as a vital link in the evolution of Beckett's early work.
Mark Nixon is Reader in Modern Literature at the University of Reading, where he is also Director of the Beckett International Foundation. With Dirk Van Hulle, he is editor-in-chief of the Journal of Beckett Studiesand Co-Director of the Beckett Digital Manuscript Project. He is also an editor of Samuel Beckett Today / Aujourd'hui and the current President of the Samuel Beckett Society. He has published widely on Beckett's work; recent books include the monograph Samuel Beckett's German Diaries 1936-37 (Continuum, 2011), the edited collection Publishing Samuel Beckett (British Library, 2011) and Samuel Beckett's Library, written with Dirk Van Hulle (Cambridge UP, 2013).
Receive 30% off the book at faber.co.uk. Simply enter the code echosbones when placing your order. Offer ends 01/09/2014.
Und Fergal Whelan schreibt auf facebook:
"Even more goodies to look forward to."
Der 3. Band der Briefe erscheint auf Englisch demnächst: